The Lone Star is Austin's newest and most luxurious double-decked, paddle-wheel riverboat. At 75 feet long and 16 feet wide, it is the largest all electric powered paddle-wheeler in the nation.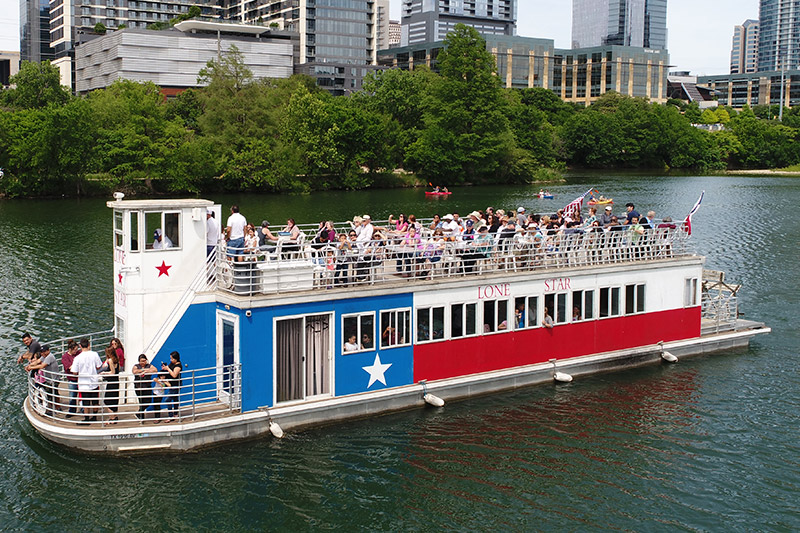 The Lone Star's lower cabin is fully equipped with central ac and heat for your year-round comfort. The upper deck is a huge open area, perfect for dining, dancing, bands, DJs, sightseeing, bat watching or just hanging out. We also have an excellent Sony sound system with cd/am/fm and ipod plug-in feature.
The Lone Star is ideal for:
Company parties and events
Weddings, receptions, and rehearsal dinners
Birthday and anniversary parties
Class and family reunions
Dinner/Lunch/Brunch parties
Sales meetings and conventions
Graduation and prom parties
Bachelor and bachelorette parties
Any occasion becomes special aboard The Lone Star!
No-No's:
No flames (cooking)
No rice, confetti, cut-outs
No animals (except those needed for assistance)
No going outside of or sitting on any railing
No swimming
No throwing any object into the lake
No glass bottles
No staples, tacks, nails or tape on the walls
No dogs EXCEPT trained service animals
What you need to know about The Lone Star: Our largest boat in our fleet
Captain and 1-2 crew members provided
Men's and women's bathroom (ADA compliant)
Two decks joined by a staircase
The lower cabin is equipped with central ac/heat (year round comfort)
Upper deck is open and spacious perfect for al 'fresco dining or dancing
Trash and recycling containers on both decks (we will take care of discarding)
Two buffet tables and separate bar area
Auxiliary jack to plug into our sound system from your devises and/or the captain will have a selection of music – or bring your own band or DJ with their equipment/speakers
Wireless microphone
Wheelchair/ADA accessible
Holds up to 100 people - weight limits do apply
No Dogs allowed EXCEPT trained service animals