The Lone Star dock is West of the Hyatt Hotel by approximately 100 yards, next to the South First Street bridge, and on the south shore of Lady Bird Lake. There is limited free parking at Vic Mathias Shores, formerly known as Auditorium Shores (click for directions). However, that parking is available on a first come first serve basis and is subject to closure due to special events at the park. We recommend giving yourself a little extra time, reviewing the alternative paid parking options, and checking out the map below before your heading our way so you have a back up plan if the free parking is not available. We are ADA accessible. We do not allow dogs unless they are trained service animals.
Alternative Paid Parking Options:
The Hyatt Hotel: Located at 208 Barton Springs Road. Lone Star dock is located 100 yards to the west of the Hyatt Hotel.
City Hall: Located at 201 W. 2nd Street. If you park at City Hall, you will need to cross the lake on the South 1st Street Bridge. Our dock is located at the bottom of the stairs on the South Shore.
Long Center for Performing Arts: Located at 701 W. Riverside Drive. Lone Star dock is a short walk across Riverside Drive and through Vic Mathias Shores.
ALL PAID PARKING PRICES ARE SUBJECT TO CHANGE WITH SPECIAL EVENTS AND DO NOT GUARANTEE AVAILABLE SPACE. DO NOT PARK IN ANY AREA MARKED "TOWING ENFORCED" or "NO PARKING" AS YOU WILL BE TOWED."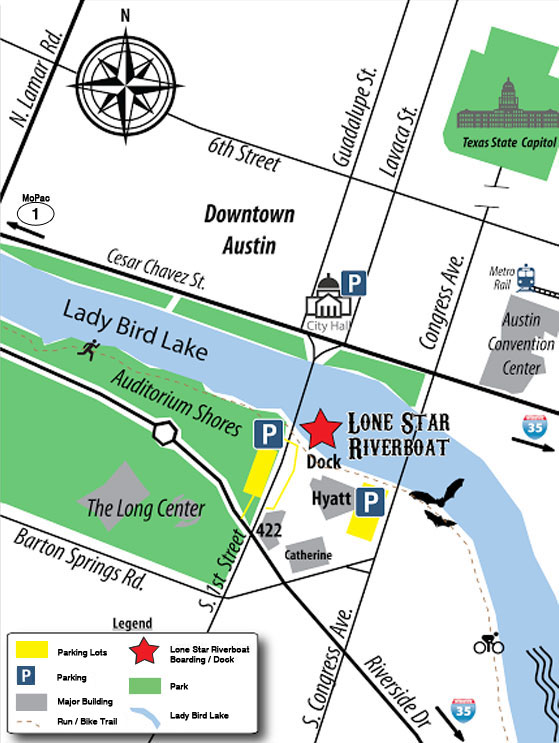 208 Barton Springs Rd Austin, TX 78704